The University of Iowa Injury Prevention Research Center (UI IPRC) trains the next generation of the leaders in injury and violence prevention.  As one of the only injury centers in the Midwest funded by the National Center for injury Prevention and Control at the Centers for Disease Control and Prevention, we take pride in the resources and expertise we offer to our students who are dedicated to making the world a safer place.
Here is a snapshot of two of them.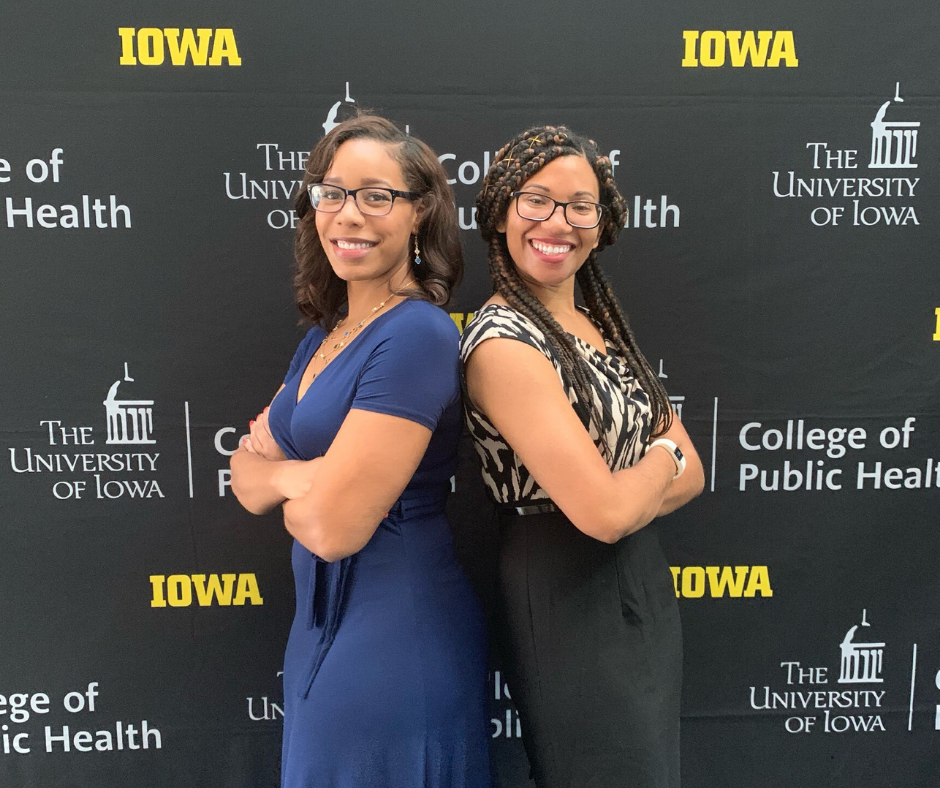 Robyn Espinosa, PhD candidate, Occupational & Environmental Health
What is your dissertation topic for your PhD?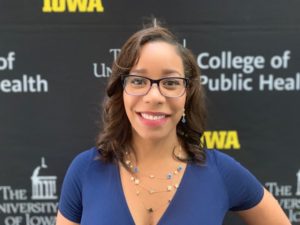 My topic is assessing the impact of Adverse Childhood Experiences (ACEs) and adverse community experiences in a population of juvenile justice-involved youth, and identifying key components of systems thinking in the school-to-prison pipeline. Breaking this cycle by addressing the ineffectiveness of the juvenile justice system provided programming has the potential to lead to successful rehabilitation. This will give youth the opportunity to reach their full potential in their education, employment opportunities, and all other facets of life.
What is one thing that you like about studying injury prevention?
I enjoy studying injury prevention because it is something that impacts every single person in one way or another. Training through the University of Iowa's Injury Prevention Research Center is preparing me to address injuries due to various causes. I feel with injury prevention I can make real change in people's lives.
What organizations are you involved in on campus and at the national level?
Here on campus I belong to the Society of Black Graduate and Professional Students. Locally, I am a Safety Advisory Committee Member at the Iowa City School District.  I am also an Education and Program Committee Member at the Iowa Public Health Association.  Nationally, I am the Mentoring Committee Co-Chair of the American Public Health Association Student Assembly and I am on the Networking Event Planning Committee of the Young Public Health Professionals.  I am also a member of the Society for the Analysis of African American Public Health Issues. I became involved in these organizations by joining list-serves, and when opportunities come up I apply for them.
What do you like about living in Iowa City?
Iowa City is a small big town, so there are plenty of things to do, but nothing is ever too far. Iowa City is also a family friendly place, so there are plenty of fun things I can do with my daughter. Our favorite is visiting the telescopes on the roof of Van Allen Hall.
What advice do you have for students who are interested in studying injury?     
Reach out and talk to the faculty and people who are doing research on various topics. However, if you're like me and have several passionate topics, then find the one that has the most support around it.
Chelsea Hicks, PhD candidate, Occupational & Environmental Health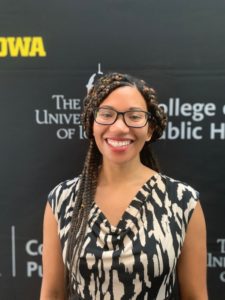 What is your dissertation topic for your PhD?
My dissertation topic is about environmental disparities in communities impacted by disasters and how this might affect violence trends in communities.
Last summer you had an internship at the National Center for Injury Prevention and Control (NCIPC) at the CDC.  What was something you enjoyed about interning there?
While interning with the CDC, I worked in the Division of Violence Prevention specifically with the Violence Against Children Survey (VACS). While there I was able to help develop informational fact sheets for constituents of the program. I also participated in country calls for editing and beta testing the VACS questionnaire.
What do you hope to do when you get your degree?
I would like to work out in the field for a few years either in a fellowship or post-doc position in a university or government setting. I feel as if the time spent working in industry would be beneficial experience to bring back to the classroom when I return to academia for teaching.
What do you like about living in Iowa City?
I love how walkable it is downtown and how there are literary references on the sidewalks that show a strong culture of reading and writing. Iowa City might be a smaller town than I'm used to, but it has everything in it that I need and love.
What advice do you have for students who are interested in studying injury?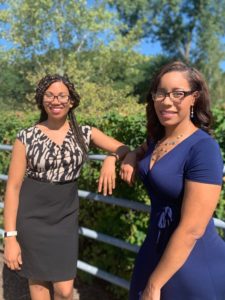 Be open to what the field of injury prevention looks like. There are so many overlaps in various disciplines from environmental health, community engagement, and activism to journalism, occupational health, engineering and violence research. The beauty of studying injury prevention is you have the freedom to align all your other research passions with this field.
Learn more about degree programs in injury & violence, funding opportunities, and what UI IPRC students and alumni are up to.
Published September 3, 2019