As the crippling pandemic swept across the world in 2020, the injury & violence prevention (IVP) field stepped up. We created new ways to address challenges posed by COVID-19. We studied the impact of the pandemic on suicides, overdoses, child abuse and injuries at home.  We raised awareness that IVP is an essential part of COVID-19 response and recovery.
Our center looks to the new year with renewed energy to tackle pressing IVP issues both during the pandemic and beyond. We will continue to lift the message that injuries and violence – a leading cause of death for children and adults – are both predictable and preventable. The pandemic has only increased the urgency to make our communities safer.
In August, the UI Injury Prevention Research Center (UI IPRC) welcomed new center director, Dr. Carri Casteel, who also brings renewed energy and forward thinking during these challenging times. And as always, we are thankful for our dedicated partners throughout Iowa and around the world who help make injury prevention work happen.
Here we look back at some of our center's other highlights over the past year: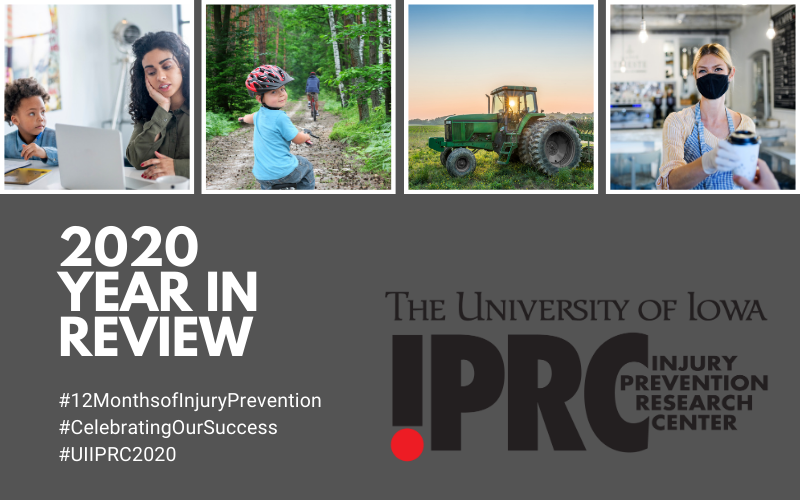 We published a report of stakeholder recommendations for addressing overdose deaths in rural Iowa.
We participated in the launch of the first national Injury Prevention Day (November 18) with the Injury-Free Coalition for Kids, the UI Stead Family Children's Hospital, and more.
We identified data sources to track real-time and long-term trends in firearm ownership, firearm injuries, intimate partner violence injuries, and suicide/self-harm.
We developed a resource with conversation tips for de-escalation to prevent workplace violence during COVID-19.
We conducted a study which found adverse childhood experiences (ACEs) predict cardiovascular disease risk regardless of whether or not those adversities were recalled in adulthood.
We highlighted our work with students through videos shared on social media.
We continued our successful pilot grant program, funding for the first time injury studies using artificial intelligence (AI).
We released a statement on structural racism and injury & violence prevention and incorporated diversity, equity & inclusion (DEI) into our strategic planning (forthcoming).
We raised awareness of IVP issues during the pandemic around rural violence, older adults falls, outdoor injuries, and kids/families & mental health.
We addressed COVID-19-related IVP issues including mental health in rural communities, COVID-19 disaster preparedness for older adults, and pediatric injuries.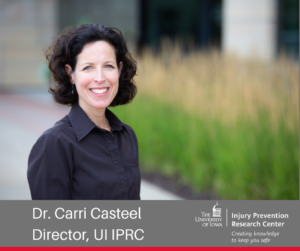 UI IPRC in the news (examples):
Engaged communities can help stop the opioid epidemic (op-ed)
UI Professor discusses "epidemic of despair" in 37th Presidential Lecture (UI IPRC's Dr. Corinne Peek-Asa)
Security guards risk their lives by asking customers to wear masks
Trauma care for injured farmers often delayed by almost an hour compared with other rural workers: study
UI IPRC publications (examples):
Racial disparities in pedestrian-related injury hospitalizations in the U.S.
Evaluation of a Falls and Fire Safety Program for Community-Dwelling Older Adults
Parental perceptions of gender differences in child technology use and cyberbullying
The medical referral process and motor-vehicle crash risk for drivers with dementia
State-level teen dating violence education laws and teen dating violence victimization in the USA: a cross-sectional analysis of 36 states.
What's next in 2021?  Some examples:
We will:
Hold a policy evaluation webinar series.
Evaluate implementation of Iowa's concussion/ return to play & learn policies.
Publish an online toolkit for referring older adults to community-based falls prevention programs.
We wish everyone a safe and healthy new year!
Published December 19, 2020