Often you hear people refer to "accidents" when describing the circumstances around injuries. Whether this involves a car crash, a fall, or a burn, these "accidents" might seem like a stroke of bad luck.
One of the messages of the UI IPRC, however, is that injuries and violence are preventable. 
Our center will continue to elevate this message. This past summer, we were happy to announce that the UI IPRC received a two-year award of over $1.6 million in federal grant money to bolster our work.
Here are some of our other highlights in 2017.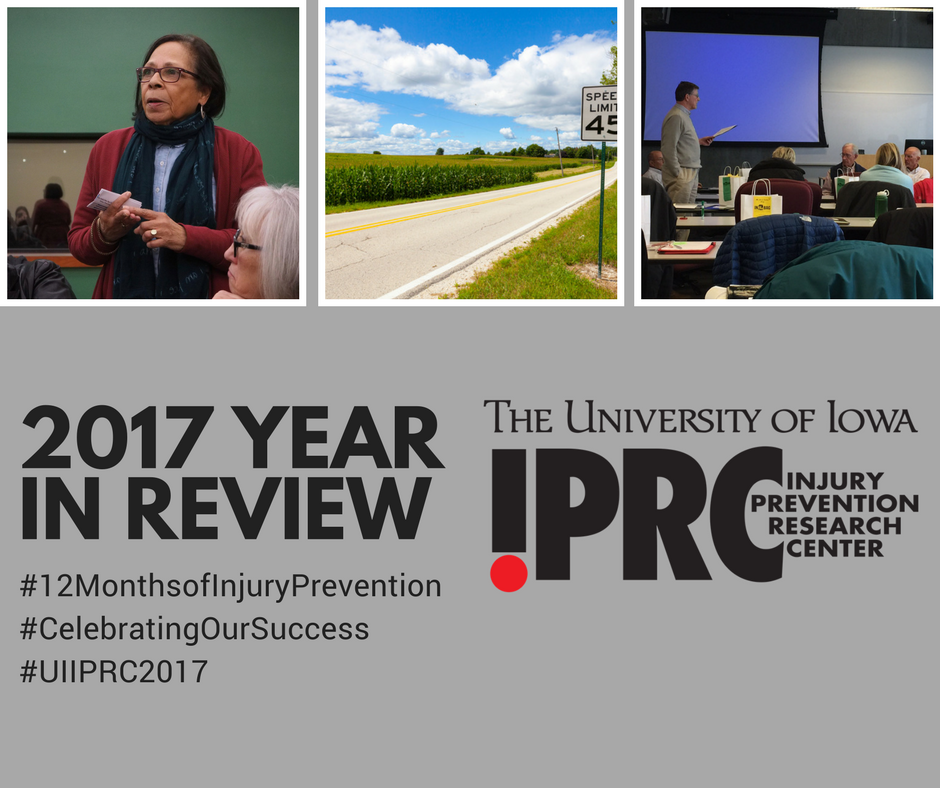 We:
Launched a large-scale evaluation of the impact of Iowa's Prescription Monitoring Program (PMP).
Released a report on the prescription opioid crisis in Iowa and stakeholder recommendations. We presented our work to a state legislative committee.
Leveraged $5 million in faculty funding for injury and violence research.
Piloted the first online global road safety course in Iowa for students and professionals.
Offered injury-related content in nine courses benefiting 47 students (bachelors, masters & PhD).
Partnered with the Iowa Department of Public Health to release the first report from a new state-based violent deaths surveillance system.
Partnered with bicycle safety groups to successfully advocate for distracted driving prevention. Texting while driving became a primary offense in Iowa this legislative session.

Iowa Bicycle Safety Action Forum, Des Moines

Gained over 49K impressions on Twitter.
Had over 12K visitors to our website: uiiprc.org
Sample of 2017 research headlines:
What's next in 2018? A couple of highlights:
We received a grant to establish the first Traumatic Brain Injury (TBI) registries in the countries of Armenia, Georgia and Moldova.
We received a grant to evaluate the nation's first integrated system to track restricted driving licenses based on medical conditions.
Check out our Twitter page and #12MonthsofInjuryPrevention to see more 2017 highlights.
Thank you to our partners for another great year.  We wish everyone a happy and safe new year!